The Find Del Maguey Web Application Harnesses the Power of Google Maps and Geolocation.

We worked renowned artist and visionary Ron Cooper and Del Maguey president to create a mobile app that would allow Del Magueys loyal following to find establishments that carry the premium mezcal — wherever they happen to be.
The app database has over 2,000 locations around the globe.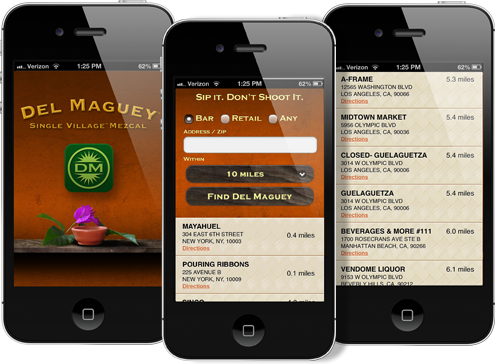 Built for Mobile
Find Del Maguey was built from the ground up with responsive design in mind. Users appreciate carefully planned layouts that remain crisp and clear on their device – whatever it is.
Visit the Del Maguey Website
Adapts To All Devices
The Find Del Maguey App configures itself to adapt to the viewing device. On Tablets the app displays a map with markers for retail, and bars and restaurants. Users can narrow their search to a specified distance or venue type.
All of the elements were carefully considered with a high attention to detail to ensure a consistent user experience while maintaining the look and feel of the Del Maguey brand.
Visit the Del Maguey Website